A founding member of the company, he was principal actor in eight shows, for which he created ten characters and reprised the role of Santa Claus a couple of times, once in a new show, once in a revival. He also played Vinnie in most revival performances of "Speakeasy" and Primo Donna in the revival of "Variety."
Frank Wilson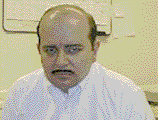 At one time, he was the funniest man performing in restaurants, but his duties a musical director at a famous private school in Wheeling, have kept him from appearing in Mystery Theatre Shows regularly since 1998. In earlier days, Frank appeared in many of the Music Hall Players productions.
His Mystery Theatre credits
As principal actor:
Vinnie Vermicelli ~ Speakeasy, Die Hard (1996, 2016)
Sy Yunk ~ Take Me Out of the Ball Game (1996)
Santa Claus ~ Slay Ride (1996)
Primo Donna ~ Variety Is the Spice of Death (1997)
Alfredo Cappuccino ~ Recipe for Murder (1997)
Hector Pepe Ricardo Juanito Gonzelas ~ Shoot-Out at the Double-U Dude Ranch (1997)
Anotonio Bandana/Thor Bludgeon/Detective Horace Wompawski ~ Il Morte di Figaro (1998)
Santa Claus ~ Slay Ride 2: Fright Christmas (1998)
In revival:
Santa Claus ~ Slay Ride (1997)
Primo Donna~ Variety Is the Spice of Death (1999)
Frank also recorded the backing music for many of the early Mystery Theatre shows.

Last updated: January 10, 2019