Above, left: Original cast 1998; right: original cast 2016 revival. In each, from left: Dee McCorkle, Frank Wilson, Michael Moran
Vera Barton-Caro, Butch Maxwell
Mobster Vinnie Vermicelli's Speakeasy is visited by his childhood friend - once a cop and now a private detective. Now Vinnie has a problem - his moll's affection for a bad comic and a strage Russian psychic - not to mention a murder in his establishment - one that he wasn't behind.
Cast
Vinnie Vermicelli ~ Frank Wilson
Shirley Laverne ~ Vera Barton-Caro
Wayne Starch ~ Butch Maxwell
Natasha Levushkin ~ Dee McCorkle
Ray Ricotta (1998 cast) ~ Michael Moran

Understudies:
Ray Ricotta (1997-1999 cast) ~ P.D. Gregg
Ray Ricotta (1996 cast) ~ Bob Dever
Vinnie Vermmacelli (March 1999 cast) ~ Gino Angelo
Special Appearances 2016 Performance:
Richetti: ~Gino Angelo
Bugsy: ~ Bert Furioli
Mugsy: ~ Josh DeBeni
Thugsy: ~ Dustin Heavilin
Ratso: ~ Ryan Sears
Opel: ~ Cheryl Violetti
Penelope: ~ Melody Meadows
Elise ~ Valery Staskey
Details about "Spekeasy, Die Hard"
Originally staged July August 1996 - Reprises in 1997, 1998, 1999 and 2016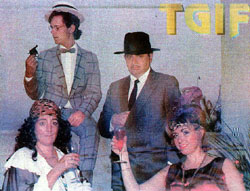 Above: The cover of the TGIFsection of the Wheling Intelligencer/News-Registeron Friday, Spetember 25, 1998.

Pictured are (clockwise from left) Butch Maxwell, Frank Wilson, Vera Barton-Caro and Dee McCorkle.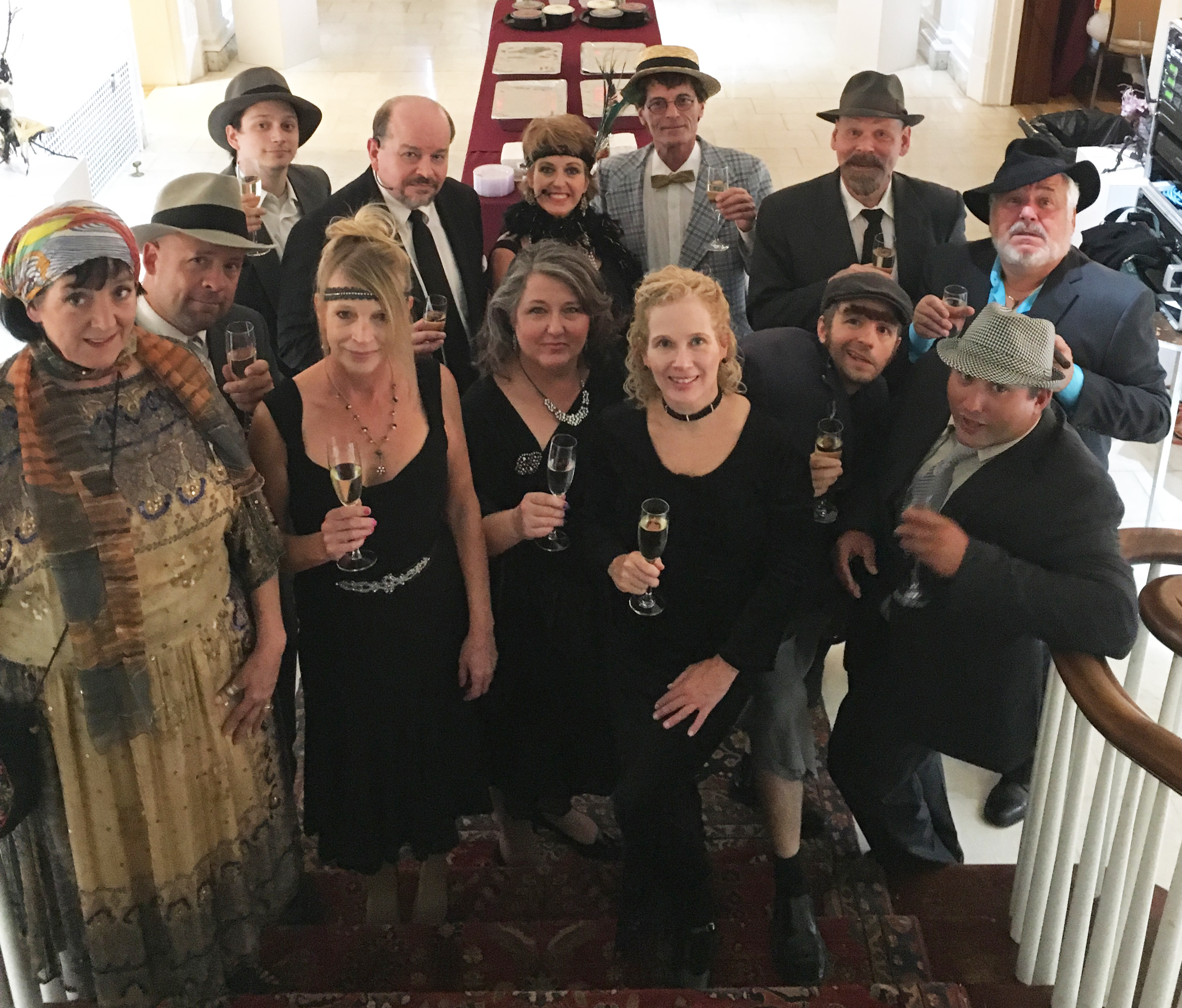 Below is a brief scene from "Speakeasy, Die Hard," the 20th anniversary performance of the first Mystery Theatre Unlimited show, held Saturday, September 17, 2016 at Oglebay Institute's Stifel Fine Arts Center. (The full cast is pictured above.) This was the final performance of the late Gino Angelo (as the gangster Richetti). Also featured are Frank Wilson (as rival ganglord Vinnie Veramcelli) and as Richetti's henchmen are Bert Furioli, Josh DeBeni, Dustin Heavilin and Ryan Sears. We will always love Gino just as much as our audiences did.
Last updated: January 15, 2017