Frequently Asked Questions

---

Answers provided below are specific to Mystery Theatre Unlimited's Murder Mysteries.

What is this thing?
Since 1996, Mystery Theatre has staged productions at various locations.

Word-of-mouth has made it grow. People see it once and they want to bring more friends back for the next show. Mystery Theatre Unlimited is offering the same great shows in murder mystery weekends, too.
Is It a Game or a Show?
Murder Mystery Dinner Theatre is a musical-comedy play staged in a room,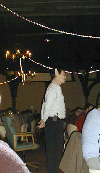 usually a banquet room, by a small company of actors playing characters. It is a scripted play, featuring a little music, but it combines lots of opportunity for improvisation. It is not performed on a stage, but among the tables throughout the evening... while you eat.
Is There Audience Participation?
Yes. But it is fairly limited. If the audience seems to enjoy it more, the actors have the option of drawing the audience in even more.
Do I Have to Participate?
No. If you are too shy, or simply want to watch, you are allowed.
Will I Know the Actors from the Audience?
We certainly hope so. This is not a format in which we try to fool you about who the entertainers are.
Is There a Mystery to Solve?
Sure. That's why it is called "Murder Mystery." One of the characters will "die." Audience participants gather evidence, question the characters and sometimes take part improvisationally. At the end of the evening, you will be given the opportunity to write down your guess as to who is the killer and what the motive is. It is actually possible to solve the mystery. But don't take it too seriously. It is all for fun. Prizes are awarded for the best detectives and for the funniest answers.
Can I Have My Own Private Murder Mystery Dinner Theatre Party?
We thought you'd never ask.

Yes. We do lots of private parties. It?s something fun for offices and holiday gatherings, whether you want to reserve seats for a regular public show, or book a private party for your group. For a special private party we require a minimum of 30 people. For more information, see this page. Private Parties.
Do I Need to Make Reservations?
Reservations are highly recommended. Call the venue of your choice. They may request a charge card for confirmation purposes.
How Much Does It Cost?
Best to call for details. Go to our Directions page to find appropriate phone numbers.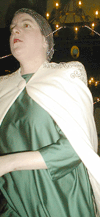 At or single-night venues, the price covers a selection of three course meals and the show. Weekend venues offer many other inclusions.
What Is the Time Frame?
For the single-night mysteries, it is a comfortably early evening of dinner and entertainment. Seating is at 6:45 and its over by about 9:30. At about $25-35 per person for a dinner and show, that's a great value.
Where Are These Places? What are the Phone Numbers?
We perform all over Northern West Virginia, western Pennsylvania and Eastern Ohio. Again, check our directions for detailed information, including phone numbers.
Photos by


---
Now Playing!
| Our Next Production | Frequently Asked Questions | About the Actors
Mystery History| Mystery Weekends | Shows Linked by Title and by Type | Whodunnit? | Links
Booking Information | Directions to Our Venues | Why We're Special | Email Us
Private Parties Call: 304-280-8681
---
Last updated: November 25, 2013