Interactive Murder Mystery Theatre Parties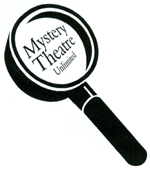 We do parties for your office, your club, your family gathering, or other events.
Murder Mystery Dinner Shows are perfect for groups. With a little intrugue, a lot of laughs and opportunities for audience participation, its a unique way to celebrate an occasion. Any occasion. (Okay, maybe a funeral would be a little weird.)
What Makes Us Better Than a Murder Mystery? Find Out Here!
Call 304-280-8681 and leave a message. We can call you back and fill you in on all the dirty details.
Costs for private shows are based upon number of guests and are subject to minimum numbers or minimum charges.
You can also call the venue of your choice for pricing and booking information. Suggested venues here.
Last updated: July 27, 2011