Booking Interactive Murder Mystery Theatre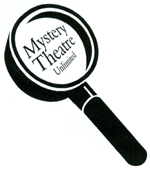 Why Should You Try This?
Occupancy! You can count on booking rooms based upon a unique draw - in addition to all the amenities you usually offer. Murder Mystery performances are a proven attraction.
New Customers! Because Mystery Theatre Unlimited will offer a unique draw, it will bring new customers to your facility. Once you've impressed them with your accommodations, food, service and ambiance, they'll return on other occasions!
Loyalty! Mystery Theatre helps you create a loyal customer base of its own. We enjoy a return rate of at least 65% - a figure that would register even higher if we considered only local customers. Many of our patrons return each time a new show is offered.
Utilization! On nights that your banquet room may otherwise be dark, Mystery Theatre can keep it filled, boosting your head counts and check averages.
Publicity! Your facility will enjoy increased visibility with press generated from our shows.
A No-Risk Opportunity to Boost Your Sales!
Murder mystery theatre is one of the most unique and popular forms of entertainment. And Mystery Theatre Unlimited has been thriving for over ten years! Guests solve the crime du jour and the top detective wins the prize. Since there is no stage, everyone has a front row seat. Every show features live music, audience participation, and unique prizes.

What Does Mystery Theatre Mean for You?
Revenue. Occupancy. A reputation for fun that spreads word-of-mouth for your property and guests who return again and again - for murder mysteries and for your other amenities.

What Will It Cost You?
Nothing. You pay us only for the guests who pay you. Unlike other entertainment options, you risk no overhead.

What Do You Have to Do?
All we ask is that you promote Mystery Theatre. Make your reservations personnel aware of the mystery performances and include mystery shows in your regular advertising and marketing. Then you take the reservations as they pour in. On performance nights or weekends, you do what you always do - serve the guests. Other than that, all we ask is that you provide us with reasonable accommodations for our small cast (usually five), including a single dressing room during performance. We'll take care of the rest.

What Are the Shows Like?
Our shows are comedies, mixed with musical parodies, centering on a Who Done It? mystery. Primarily performed not on a stage but among the tables in your banquet room, our repertoire group of professional, adult actors will involve the audience not only in solving the mystery, but in gathering clues and playing characters. We offer more than two dozen original shows and are writing more all the time. At regular venues, we change shows at least four times a year, assuring your satisfied customers will return again and again.
What Makes Us Different?
Two big things - our shows and our actors.
Our Shows
A lot of companies offer murder mysteries - and most of them have been written by the same three or four writers. We've seen the scripts. And we won't do them.
Our original comedy shows break the mold of stock characters and cliché settings. We emphasize originality, fun and creativity. Two seasoned comedy writers who are resident performers of Mystery Theatre Unlimited write our shows. These guys have 30 years experience in writing comedy for the stage - and it shows!
Our Actors
Mystery Theatre Unlimited features a tight ensemble of actual professional actors, improvisation artists, singers and comedians. We don't have open auditions, pull in relatives to play parts or recruit kids from high school, as many companies do. Mystery Theatre Unlimited's group of actors has evolved over the years, but it remains a core of a handful of pros who work together all the time. And in comedy, there's nothing like the chemistry of a real ensemble.
Now, we're not saying everybody else stinks. We know of a couple that are pretty good, and have the same high standards we do. But far and away most murder mystery dinner theatre companies are bland, boring and formulaic - just the sort of things that give murder mysteries and dinner theatre a bad name. We are different.
Show Pricing
That's up to you. You design the package that best fits your property.
For single-night shows, think in terms of charging about double your retail average check for a banquet plate.
For weekend shows, in addition to the overnight room, you will want to package in a cocktail hour with a bar and light snacks for Friday evening, a breakfast for Saturday and Sunday mornings, perhaps a lunch for Saturday afternoon, and certainly a fine dinner for Saturday evening - when most of the Mystery Theatre entertainment will take place. You simply build into your packaging our price - which is a simple per person price. You can certainly be encouraged to up sell guests on extras, beyond the basic price, too! The only extra cost for you to consider is a single grand prize which we will award on your behalf to the person who gives us the best solution to the mystery. Usually resorts and hotels prefer to award a scaled down getaway weekend for two - but the prize is entirely up to you.

What Do We Charge?

Call us for current prices. Remember, we charge only for paying customers, and you've already packaged that in.
What's the Catch?

No catch. This is easy, fun, unique and painless.
Cancellations
When you book the Mystery Theatre, we will not cancel a performance. But, with 48 hours' notice, you can cancel a show if you must. We do require a minimum number for single performances. If you should find that you are unable to meet the minimum, it is your option to either cancel the date or pay the minimum fee.


Last updated: August 28, 2008