From "The Hollywood Scoop" October 31, 1950:

Bert Furioli, Ryan Sears, Butch Maxwell, Maura Schneider and Gino Angelo.
"High Hopes for Horror" by Elemeno Pee
Universitale Pictures has great expectations for it's newest release, now in production. With box office receipts declining ever since the nation has become enamored with the advent of television, all the movie makers have been struggling to get people back in the theaters.
Universitale's high hopes are invested in the teaming of a trio of horror stars who used to pack audiences into the movie houses back in the 30s and 40s.
The question is, in 1950, is anybody really going to get scared at seeing Boris Kissoff do his Rankenstein Monster again? Was anyone ever really that unnerved when Ron Cheyney, Jr. snorted and growled through countless turns as the Woofman? In the modern age, who is really going to think it is frightening when Bela Lagrossi unburies his Count Dragula?
This reporter thinks Universitale could save some money by dropping the former stars and just doing a thriller starring the Invisible Man and his evil twin?
I'll keep you posted on this one: Hollywood is expecting a visit from Congressman Beauregard "Foghorn" Jackson IV, along with his secretary, Miss Honeydew Thistlewhistle. During his visit to Los Angeles, Congressman Jackson promises to offer a startling revelation about certain very famous movie stars.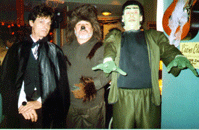 Cast:
Bela Lagrossi aka Dragula
Butch Maxwell

Boris Kissoff aka the Rankenstein Monster
Bert Furioli
or Michael Moran (April 2004)

Ron Cheny, Jr aka Woofman
Gino Angelo
or Michael Moran (April 2004)
or Ryan Sears (Oct.-Nov. 2007)

Miss Honeydew Thistlewhistle
Arlene Merryman
or Vera Barton-Caro (November 2003, March-April 2004, Oct. 2007)
or Cheryl Violette (October 2004)
or Maura Schneider (Oct.-Nov. 2007)

Congressman Beauregard "Foghorn" Jackson IV
Dee McCorkle
or Michael Moran (October-November 2003, May 2004)
or Cheryl Saseen (April 2004)
or Gino Angelo (Oct.-Nov. 2007)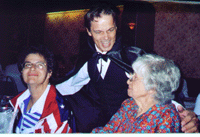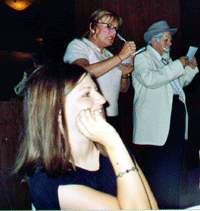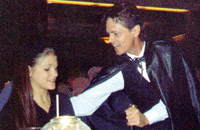 ---
Home
| Now Playing! | Our Next Production | Frequently Asked Questions
Mystery History| Mystery Weekends | Shows Linked by Title and by Type | Whodunnit?
Booking Information | About the Actors | Directions to Our Venues | Links | Email Us
Private Parties Call: 304-242-7828
Last updated: October 31, 2007