Mystery Theatre Classics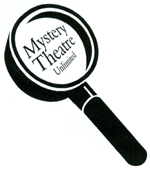 We call our old shows "classics" because, frankly, no one else will!
---
Upcoming "Classics":
We'll let you know... Recent Classics Offered:
Space Trek: The Rash of Budda Kahn
Murder on the Luv Boat
Indiana Smith & the Restaurant of Doom
The Case of the Ditz and the Diamond
Tales From the Script
Is there a show you missed that you'd particularly like to see?



See Mystery History then E-mail us and let us know! (MysteryTheatre@yahoo.com)
---
Home
| Now Playing! | Our Next Production | Classic Series | Frequently Asked Questions
Mystery History| Mystery Weekends | Shows Linked by Title and by Type | Whodunnit?
Booking Information | About the Actors | Directions to Our Venues | Links | Email Us
Private Parties Call: 304-242-7828
Last updated: May 26, 2006