Rocky Horror Reviews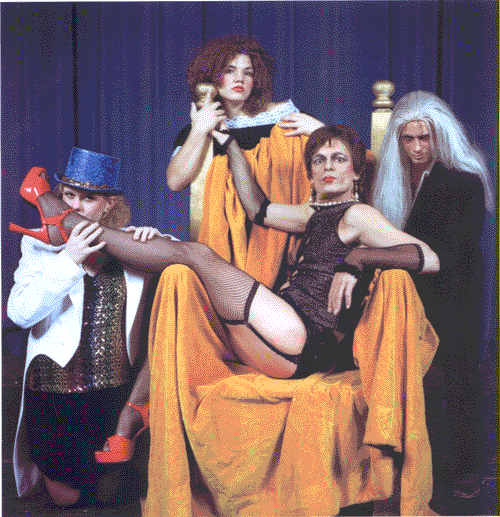 West Liberty State College's production of Richard O'Brien's The Rocky Horror Show, directed by John Reilly, with vocal direction by Kim Allison and technical direction by Meta Lasch, is a highly entertaining celebration of weirdness. It deserves the patronage of an adult audience.
Butch Maxwell is excellent as the cross-dressing Dr. Frank N. Furter. Jose Caban Jr. is quite funny as his creation, rocky. Tracy Allison and Justin McConnaughy are hilarious as the innocent young couple corrupted by the evil doctor. Lori Taylor is sexy and mysterious as the Usherette and as Magenta, balanced perfectly by Patrick LeMasters' creepy Riff-Raff.
Krystal Bleifus does a fine job as the emotionally shattered Columbia, and Billy Clough does strong double duty as her lost love, Eddie, and his uncle, Dr. Scott. Great support comes from Sarah Groux, Chelsey Keding, Carrie Lewis, Billy Meeks and Gretchen Schneider as the Phantoms. Dan Viderman needs to relax more as the Narrator.
~ Charles Calabrese
Weirton Daily Times
Director John Reilly offers a darkly funny, sexy turn on The Rocky Horror Show by Richard O'Brien at West Liberty State College. With a kitschy, campy set resplendent with fog, colored and flashing lights and impressive extras (like an elevator) designed by Meta Lasch, this musical gets the full Hilltop Players' spectacle treatment. The costumes and make-up are as stunning as the casting is.
Of particular note are Justin McConnaughy as Brad Majors, Billy Clough as Dr. Scott (and a reasonable turn as Scott's nephew, Eddie), Jose Caban in the title role and the enigmatic Magenta and Riff Raff, played by Lori Taylor and Patrick LeMasters, respectively.
Undeniably stealing the show is Butch Maxwell as Frank-n-Furter, who plays the role with an impressive balance of malice and charm. His broad comic mugging is perfect for the interactive nature of the outspoken audience, and his sexually-charged charisma makes for one of the most memorable performances in local theatre.
While not a traditional musical for general audiences, this is a must-see show for anyone over 18 who enjoys rock and roll and comedy.
~ Melissa Tedesco
Arts & Living
Appalachian Times
The Rocky Horror Show has never been one of my favorite shows. I always found the movie to be disjointed, rough and not particularly funny. The stage versions I have seen have been plagued with miscasting and the music always seemed unimpressive and clichéd.
Although my opinion about the show has not changed, the Hilltop Players' production of Richard O'Brien's musical transcended the play's shortcomings. A spectacular set helped, as did solid singing performances by the entire cast, notably Lori Taylor as Magenta and Patrick Lemasters as Riff Raff. Good comic performances were also turned in by Jose Caban as Rocky and Justin McConnaughy as Brad.
But it was Butch Maxwell's breathtaking performance as Frank N Furter that made the show shine as the best musical ever to be staged at West Liberty. With a stance that was at one moment rock 'n roll, the next drag queen and the next a B-movie horror actor, he squeezed every possible laugh, and even an unexpected tear or two, from the role. His comfort with audience participation was obvious - he encouraged it. And his sensual presence made the audience, regardless of gender, lust for this energetic, sexy creature in platform heels, a corset and fishnet stockings.
Kudos to director John Reilly for having the courage to stage the production in the first place, and the artistic wherewithal to turn a sow's ear into a silk purse.
~ Ellyse Fortune
Steubenville Herald-Star
---
Home
| Now Playing! | Our Next Production | Frequently Asked Questions
Mystery History| Mystery Weekends | Shows Linked by Title and by Type | Whodunnit?
Booking Information | About the Actors | Directions to Our Venues | Links | Email Us
Private Parties Call: 304-242-7828
Last updated: May 26, 2006