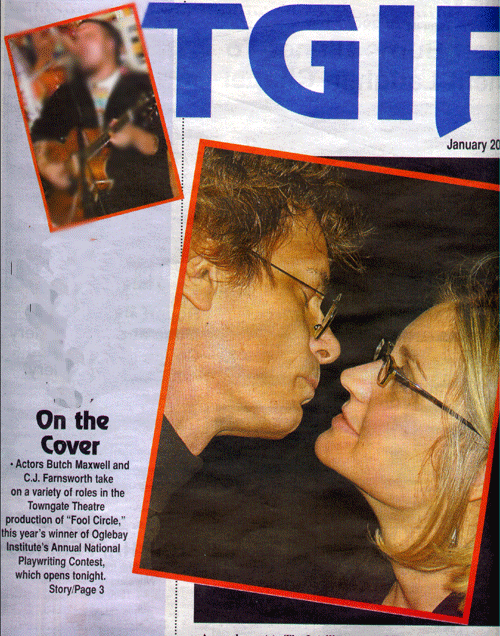 Towngate To Present Contest Winner 'Fool Circle'

"Fool Circle," a warm and refreshing comedy of nervous and combative love between opposites, will be performed on Oglebay Institute's Towngate Theatre stage today through Sunday, Jan. 22, and again, Thursday, Jan. 26 through Saturday, Jan. 28.

Oglebay Institute's Annual National Playwriting Contest is one of its proudest efforts. The contest began in 1976 and offers a chance for new writers to get their work produced. Fostering theater at its roots, the Towngate Playwriting Contest is respected throughout the national and international artistic community.

Winners receive a full production of their play on the Towngate stage. The winning play is always the January feature at Towngate Theatre, offering its audience fresh new theater and a chance to play a part in the very important process of playwriting.

Towngate Theatre's Playwriting Contest receives entries from all over the country and generally draws from a field of more than 100 entries. It is one more example of how Oglebay Institute seeks to inspire the imagination and encourage creativity.

This year's winning play is entitled "Fool Circle" by S.W. Senek. "Fool Circle" takes place during the course of one election year in New York City. The story centers around Delores and Lawrence, both in their 30s and obsessed with politics.. Delores works as a speechwriter for mayoral candidate Thomas, one-time successful Wall Street executive. Lawrence, a political journalist, uncovers an embezzlement scandal of Candidate Thomas, with the guidance of his in vogue boss Mai-Lee. By happenstance, Lawrence and Delores meet and discover an instant attraction for one another. However, this magnetism thrives on one thing, debating. Because of the mudslinging election and their opposing political views, they make an unspoken promise to remain "just friends." That vow is threatened as they venture into unchartered territory of intimacy, complete with new obstacles; Delores' diehard Catholic father and Lawrence's fruit-tart-loving Jewish mother. They must figure out how to handle the whirlwind of an election and relationship.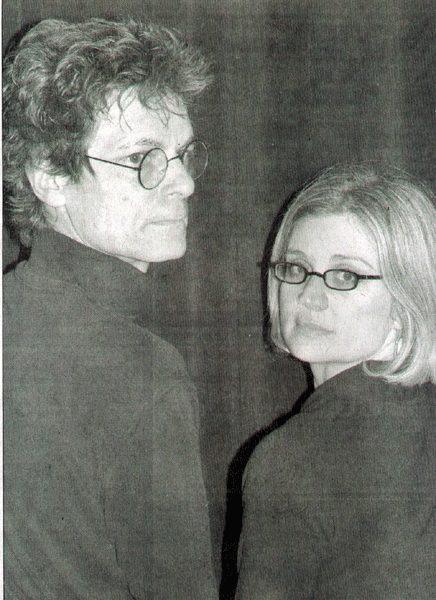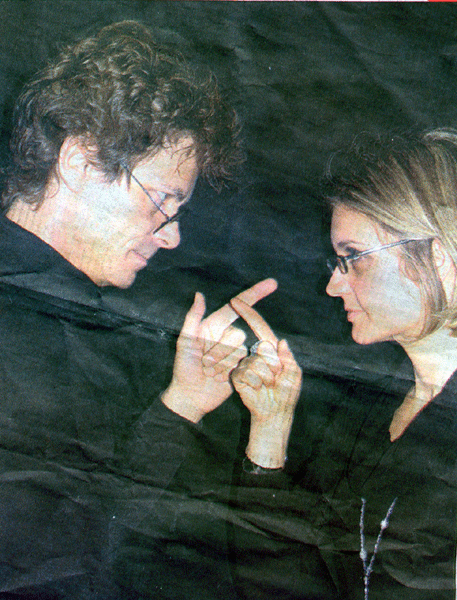 Local performers face a difficult task as each actor portrays three different characters throughout the play. Accomplished actors Butch Maxwell (above, left) and C.J. Farnsworth (right) take the stage in this comedic production.

Maxwell has the roles of Lawrence, mayoral candidate Thomas and Delores' Catholic father. Maxwell last appeared at the Towngate Theatre in the May 2003 production of "The Sunshine Boys." He is perhaps better known for his performance as Dr. Frank N. Furter in the West Liberty State College Hilltop Player's 2001 production of "The Rocky Horror Show." He is co-founder of Mystery Theatre Unlimited, an original comedy dinner theater troupe for which he acts, directs and has authored 22 productions over the past 10 years.

Farnsworth has the roles of Delores, Lawrence's boss Mai-Lee and Lawrence's Jewish mother. Farnsworth, a Wheeling native, is no stranger to the Towngate stage. She has appeared in "You Can't Take It With You," "Bus Stop," "Months on ~nd" and "Steel Magnolias." She most recently portrayed the character of Honey in "Who's Afraid of Virginia Woolf' at Ohio University Eastern. Farnsworth is employed as a teacher in Marshall County and resides in Wheeling with her husband and son.

S.W. Senek is the author of many award winmng plays. "9 Months: Inside Out" won the 2004 William Patterson University's New Jersey Playwright's contest and
received a production; "12 Rounds" was produced in EATFesI Spring 2005 in New York City and was nominated for the 2005 New York iT awards for Best Original Short Script.

His new full-length "Life, Death, and Vermont" will receive a full production in April 2006 at the Attic Ensemble.

Other plays have been performed from New York City to Alaska. Senek hold a bachelor of fine arts degree in theater from Youngstown State and is a member of The Theatre Project, Emerging Artists Theatre and the Dramatists Guild of America, Inc.

Each new play and playwright is given full advertising, press release and theater treatment with Oglebay Institute, as well as a monetary prize. The well-known veteran actor, director and founder of the contest, Oglebay Institute's artistic director Hal O'Leary, is invaluable to playwrights as he directs, suggests and assists these new artists in their creative work.

Because theater is collaborative, the audience is the final judge of the winning play and its applause is invaluable to the winning writer. The first play that won the Towngate Theatre Playwriting Award was "Honey," by Ohio Valley native and long time Towngate volunteer, Mick Daugherty.
Towngate's curtain is at 8 p.m. today and Saturday, Jan. 21, and 2 p.m. Sunday, Jan. 22. Curtain is 8 p.m. Thursday, Friday and Saturday, January 26-2 8. Call the Stifel Fine Arts Center at (304) 242-7700 to reserve seats for "Fool Circle."

For those buying seats at the door, Towngate's box office opens one hour before all shows and can be reached at (304) 233-4257.

Refreshments are available at Towngate Theatre. Parking is curbside or in the nearby Center Wheeling Parking Garage.

Towngate is located at 211 8 Market Street, Wheeling, across the street from St. Alphonsus Catholic Church in the historic Centre Market district of Wheeling.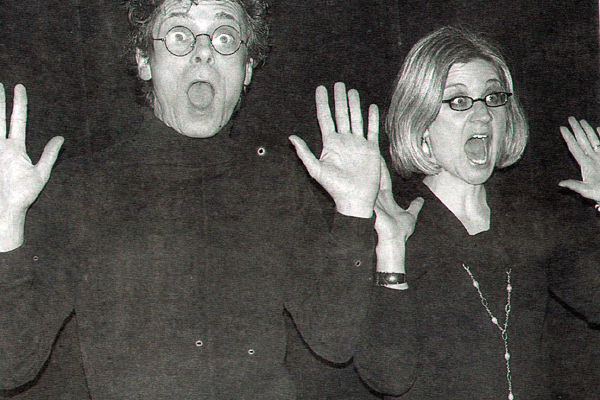 Butch Maxwell and C.J. Farnsworth each portray three characters in "Fool Circle" the National Playwriting Contest winner.
Towngate Theatre Home
---
Home | Now Playing! | Our Next Production | Frequently Asked Questions
Mystery History| Mystery Weekends | Shows Linked by Title and by Type | Whodunnit?
Booking Information | About the Actors | Directions to Our Venues | Links | Email Us
Private Parties Call: 304-242-7828
Email Here!
Last updated: May 26, 2006